While we would love to picture older Americans as happy and healthy, this isn't always the reality. With nearly 50 million people in the U.S. over the age of 65, there is a significant portion who have serious health issues.
According to the National Council on Aging, 77% of older adults have at least two chronic diseases, and the rate of depression and mental health disorders in this country is expected to climb with the growing numbers of aging Americans. Fortunately, care coordinator services can help identify signs of depression in patients, setting up a pathway to assistance.
Depression in Seniors
The National Council on Aging reports that one in four older adults in this country suffers from some mental disorder that may include depression, anxiety disorder, or dementia. Depression alone affects seven million older Americans, and many of these people do not receive any treatment. Untreated depression can affect the outcomes of other health issues due to noncompliance with medical instructions, increased impairment, higher mortality rates, and a higher risk of suicide. In fact, people aged 85 and up have the highest suicide rate of any age group.
Depression Associated with Chronic Disease
While depression itself is considered a disease, there are studies that chronicle its impact on other chronic diseases in older patients. According to one 2015 study out of Brazil, depression worsens the quality of life of suffering patients and has a significantly detrimental impact on such chronic diseases as hypertension, lung disease, diabetes, heart disease, and arthritis.
In several studies, the intensity and frequency of pain was impacted by depression. One study concluded that the presence of depression could double the risk of type I diabetes due to changes in lifestyle. According to the Centers for Disease Control (CDC), the risk of depression in older adults increases if they require home healthcare or are hospitalized.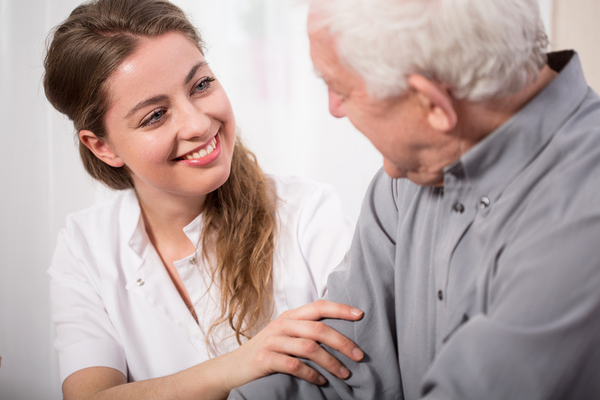 A care coordinator can help screen patients for signs of depression.
Care Coordinator Services to Help Identify Signs of Depression
Not all patients will admit or even know that they are suffering from depression. While healthcare providers are trained to recognize the signs of depression, this isn't always picked up on in a normal healthcare setting. A recent study showed that only 17% of Medicare patients were being screened for signs of depression. Fortunately, this is one of the things that a care coordinator will look for in their one-on-one patient conversations. When these chronic care management (CCM) services are delivered, the care coordinator can screen for symptoms such as:
Feelings of hopelessness, guilt, or helplessness
Lack of interest in normal activities
Change in sleep patterns and appetite
Fortunately, many older adults experience improvement in symptoms with treatment that includes psychotherapy, antidepressant drugs, or a combination of these.
Depression is a serious health issue that is affecting seniors in growing numbers. If left untreated, there is a significant impact on chronic disease management. A care coordinator can help identify signs of depression and alert primary care providers so that patients receive the best care possible. Contact us with any questions about our CCM services or request a free consultation now.